Vol-3070




urn:nbn:de:0074-3070-0

Copyright © 2021 for the individual papers by the papers' authors. Copyright © 2021 for the volume as a collection by its editors. This volume and its papers are published under the Creative Commons License Attribution 4.0 International (CC BY 4.0).
---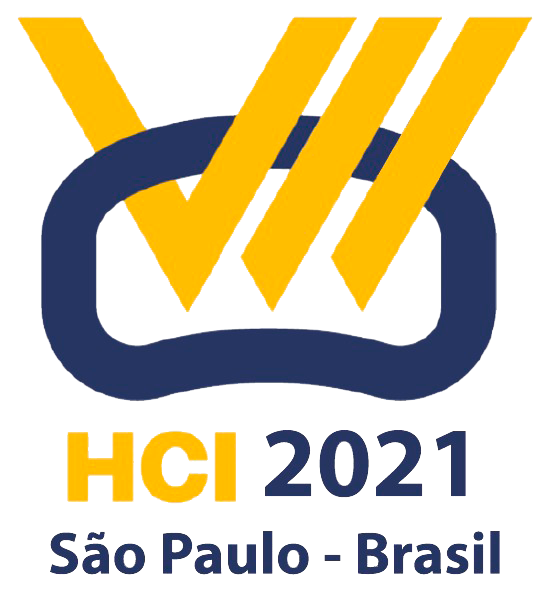 HCI 2021



VII Iberoamerican Conference of Computer Human Interaction
Proceedings of the VII Iberoamerican Conference on Human Computer Interaction
São Paulo, Brazil, September 8-10, 2021

.


Edited by

1Universidade Tecnológica Federal do Paraná, Via Rosalina Maria dos Santos, 1233, Campo Mourão, Brazil
2Universidad de Salamanca, 37008 Salamanca, Espanha
3Federal University of São Carlos, Rod. João Leme dos Santos, Km. 110, Sorocaba, Brazil
3Corporación Universitaria Comfacauca, Calle 74 Carrera 9, Popayán, Colombia
5Universidade Presbiteriana Mackenzie, Rua da Consolação, 930, São Paulo, Brazil

---
Table of Contents
Preface
Summary: There were

68

papers submitted for peer-review to this workshop. Out of these,

16

papers were accepted for this volume,

11

as regular papers and

5

as short papers.
Main Track
Interaction in Video Games and Gamification
3rd Workshop on Infotainment Systems and Intelligent Systems
3rd Workshop on Infotainment Systems and Intelligent Systems - Short Papers
Aplicación Móvil Basada en Realidad Aumentada para el Despliegue de Información de un Vehículo




Cesar Enrique Flores Sandoval

,

Huizilopoztli Luna-Garcia

,

José M. Celaya-Padilla

,

Carlos E. Galván Tejada

Jorge I. Galván-Tejada

,

Hamurabi Gamboa-Rosales

,

Miguel A. Fraire-Hernandez

,

Luis A. Flores-Chaires

,

J. Guadalupe Lara-Cisneros

Identification of Problems in the Design of Infotainment System Interfaces




Andrés F. Agudelo

,

Diego F. Bambague

,

César A. Collazos

,

Huizilopoztli Luna-García

Habib Fardoun
Student Workshop
Student Workshop Short Papers
---
2021-12-13: submitted by André Luiz Satoshi Kawamoto, metadata incl. bibliographic data published under Creative Commons CC0


2022-01-11

: published on CEUR Workshop Proceedings (CEUR-WS.org, ISSN 1613-0073) |valid HTML5|