! Meta tags for document classification>
Vol-92

© 2004 for the individual papers by the papers' authors. Copying permitted for private and scientific purposes. Re-publication of material on this page requires permission by the copyright owners.
---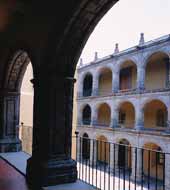 Latin-American Workshop on Non-Monotonic Reasoning
Proceedings of the 1st Intl. LA-NMR04 Workshop,
Antiguo Colegio de San Ildefonso, Mexico City, D.F , Mexico, April 26th 2004
See the people attending at LA-NMR04
Edited by
Mauricio Osorio, Universidad de las Américas Puebla, josorio@mail.udlap.mx
Alessandro Provetti, University of Messina, ale@unime.it

Sponsors
---
Best Paper Award
The following paper has reveiced the Best Paper Award from the program committee:
Toward Formalizing Non-monotonic Reasoning in Physics: The use of Kolmogorov Complexity to Formalize the Notions of "Typically" and "Normally"
Vladik Kreinovich, UT El Paso, USA.
Invited Speaker
Prof. Chitta Baral
Arizona State University, U.S.A.







Papers
Computing Preferred Safe Beliefs
Luis A. Montiel, J.A. Navarro
Component-Based Answer Set Programming
Stefania Costantini
New Semantics for Hybrid Probabilistic Programs
Emad Saad
Reasoning about Lava effusion: From Geographical Information Systems to Answer Set Programming
Isabella Cattinelli, Maria Luisa Damiani, Andrea Nucita
Toward Formalizing Non-monotonic Reasoning in Physics: The use of Kolmogorov Complexity to Formalize the Notions of "Typically" and "Normally"
Vladik Kreinovich
ASP: from Application Development to Syntax Extensions
Magdalena Ortiz
Planning Operation: An Extensión of a Geographical Information System
Claudia Zepeda, Christine Solnon, David Sol
An experiment using DLV-K
R. Santillan, A. Lopez
Some Key Notions in Non-monotonic Reasoning
Raymundo Morado
---
submitted 27-Apr-2004 to CEUR-WS by Marina De Vos
last change 25-May-2004 by A. Provetti